Where was I? What was I doing? What the world??
I was rifling through the news last night and noticed that big-time hedgehog Samuel Israel turned himself in — on 3 July. How could I have blown by this?
I was all a-fluff with the intrigue of it. The guy rips off investors to the tune of $300 million-plus, gets caught, and then fakes his own death, preferring life on the lam to 20 in the slammer.
Police probably sensed it was an amateur botch-up when they found his SUV sitting out in plain sight on a bridge, with the words "Suicide is Painless" written in the dust on the hood. Right. I'll leave a cryptic note…what should I say? Oh, I know…how about the title of the theme song from M*A*S*H ? Yeah, that'll throw 'em off.
[His RV and scooter were also missing. Brilliant.]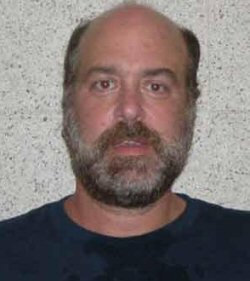 Turns out his mom convinced him to surrender. Yay for moms. So he rode his scooter into a small Massachusetts town and turned himself into the local police. Later, in a Manhattan courtroom, he appeared to be weak and tired, and abruptly sat down while the judge was talking to him. She then said, "Stand up Mr. Israel. "If you can ride a motorcycle, you can stand up in my courtroom."
Here's his mugshot. He actually looks relieved.
I'm not one to pass judgment here, though. Who knows what goes through a person's mind when he realizes the trouble he's in (not to mention the immeasurable grief he caused his investors, who lost millions of dollars entrusted to him)? I think sometimes we just freak out.
I mean, take Ted Kennedy…..
But like I always say to my students: ya makes yer choices and ya lives with the consequences. And there are always consequences of some kind (take Ted Kennedy…again).
In other news:
Bennigan's, the Irish grill and bar establishment, is filing for Chapter 7 bankruptcy. I have memories of Bennigan's…I was pregnant with my now-24-year-old son. Went there in 1983 with Mavis and her husband for dinner one night while I was visiting them in Texas, and came away with a lovely case of food poisoning.
Also going down with the Bennigan's ship: Steak and Ale. Apparently, according to this report from CNN, the "bar and grille" type restaurants (think Applebee's, Cheddars, T.G.I. Friday, Carrabbas, Chili's) have expanded at such a fast rate, consumers are torn six ways from Sunday.
Oh yeah, and apparently, America is still for sale.
It's all a big fat mess, I tell ya.
Fink out.
Photo credits: Associated Press, Qatar-tourism.com