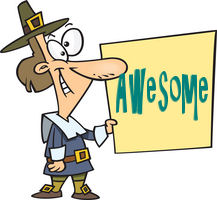 Well I hope everyone had a great Thanksgiving (sorry Suze – I hope your tuna sammich was tasty!). The holiday itself is rather silly when you think about it: getting together one day a year to be thankful, or worse, to "celebrate" what is one of the most egregious examples of skrooed up history ever, or worst, to see how much you can eat before you lapse into a diabetic coma. Still, I love that we are able to gather together and collectively acknowledge how fortunate we are for food and shelter throughout the whole year. We did that in fine style at the Finkhouse last night. It was great.
We (or I should say, Mavis) dry-brined the turkey this year. I highly recommend it. If you are weary of dry white meat on your bird, then this is the holy g-r-r-r-ail. It was a 4-day ritual, but boy did it pay off. Home run, Mave!
So anyway, still on about the food…
I was on a Slovenian-American site this morning and a link caught my eye. It's a YouTube vid of a man going to a raw milk machine. A mlekomat. No homogenization; no hormones added. Just raw milk right from Bessie at the farm down the road — put into a milk machine. Is that cool or what?
You'll see the guy in the video first purchase an empty bottle, then put it in the machine, and presto — raw milk. I'll bet it's funny to see one of these on a country road out in the middle of nowhere.

Just a little Black Friday weirdness for ya.