The thing about vacations is that they're eventually over, and you have to go back to work. I'm OK with that.
OK, that's a lie. Of course, most of you know that if I could, I'd retire tomorrow and be Grammie, bake things to sell and teach online as my fulltime job. But as I read in a depressing article last night, the latter won't be happening anytime soon. Sobering. And you know, when you stop to think about it, the universities are making out like bandits: low salary payouts, no benefits…what's not to love?
Anyway.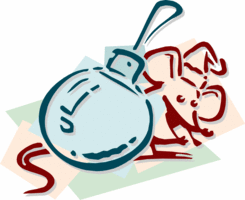 As I said yesterday, we're in the final push to 20 December. My Christmas concerts are early this year: a first-time experiment. Usually, the singers aren't ready until that last week of school. We'll be pushing that deadline this year with concerts on the 10th and 12th, but I think they'll do OK. I hope so. They should. They might. Yikes.
And even though I'm not thrilled about getting back into the old routine again, I am delighted for the Christmas season to be here! I'm looking forward to time with family, and I might squeeze some friend excursions in there as well. The dining room table serves as the parking lot for the gift deliveries that started yesterday…it's all exciting.
What's your favorite part of Christmas, Hanukkah or Kwanzaa? I like the family get-togethers the best, of course, but I love the baking, the shopping, and, not surprisingly — Christmas break!
I really need to retire tomorrow. I can dream, can't I?
Fink, off to the showers and the school house