Tonight, I will accompany 103 fine people to NYC. Sleep? Feh. You can sleep when yer dead.
Lots of fun stuff planned for my students, most of whom have never been to Man Hat. The highlight for me, as always, is the performance at the Cathedral Church of St. John the Divine. That, and sleeping when I get home, because I don't do so good in a moving vehicle — especially when I'm watching the driver every minute to make sure he/she is awake, not texting, not speeding, etc. I don't mind being a backseat driver sometimes.
Judging from the Facebook posts I'm seeing, everyone's getting excited. That makes me smile. I hope the right choir shows up for the gig tomorrow morning; if the music is good, I will be happy. I will make a concerted effort to post to RtB each day, although I can't guarantee my customary 6 a.m. EST press time. I will be checking in, though, so feel free to lurk when you think of it.
In other news: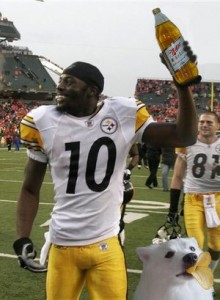 ~
Keep repeating to yourself: It's not stupid, it's not stupid, it's not stupid…Couldn't have happened to a nicer team. Did I say that? Yes, I did. Just call me Sarcasmo. Sarcasmo, the Sore (Perennial) Loser.
Schadenfreude: curse or blessing? Discuss.
Now you all have a great week — I'll check in when I can. But for now, it's eastbound and down, loaded up and truckin'.
Sincerely,
Jerry Reed