So what do I have to do to get you to watch Mad Men, season 3 this summer?
From everything I've read, we're lucky to have it back for a third season at all, now that it's such a smash and it's made a huge star out of Jon Hamm. I also read that HBO and Showtime both passed on the series when it was shopped to them a few years ago. Heh. Hindsight….
Anyway, aside from the deep characters and historically important storylines, there's the absolute militant attention to detail in the costumes and sets. It brings back lots of memories for me from when I was a little girl in the 60s, shopping in Chicago and Milwaukee with my mother.
It was a different time, then. I know that sounds terribly cliché, but it's true. I mean, can you see your local Wally or Drug Mart selling these?
I loved that "delicious imitation strawberry flavor" — it was so unpretentious, you know? I mean, Nestlé knew it was all fake, so why try to mislead folks? I remember when this came out…we loved the stuff. Couldn't get enough "pink milk."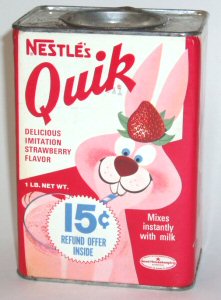 Anyway, back to Mad Men. I hope season 3 is as good as the other two. Don (Hamm's character) got a little crazy at the end of the last season, though. That nonsense needs to stop.
And just to prove to you once and for all that yes, this post is rife with non sequiturs, I leave you with this question: Why would a pig be happy that a mint tastes like bacon?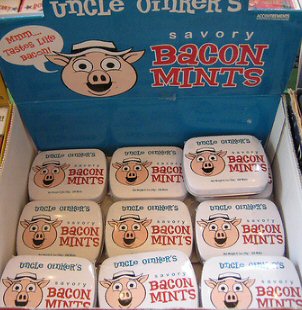 Right. On that note, I'm out.