…what never came. That's all right, though. I'll just get ready and go to work like all of you.
I took this photo at rehearsal a couple of weeks ago. Girls lying on the hard, cold floor but still having fun. I remember those days. Whether it was sitting/lying on the floor or huddling outside in the freezing cold at recess, we just loved being together. I hate to admit it, but I don't see myself lying on the uncomfortable tile floor now. Ouch.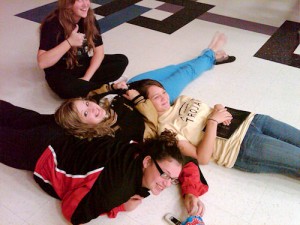 ~
For those who know him, this has "George" written all over it. Why are my students so weird?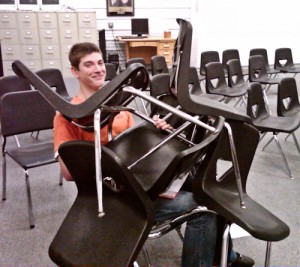 ~
This sign is actually posted on the bathroom door at school. The faculty bathroom door at the high school.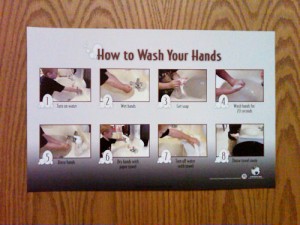 Is this really what we've come to? I can remember a day when seeing something like that on a public restroom door would annoy and offend. You know, like now. It ranks right up there with the little keep-the-product-dry silicone packets that prominently warn, "DO NOT EAT." Or the labels that say, "Remove lid before attempting to pour product." And the incessant dumbing down runs rampant. I know you know examples of this. If I had time, I'd search some out. But alas, as REO Speedwagon once crooned: I believe it's time for me to fly.
Fink out — but not down. The show is shaping up.
PS – check out the cartoon PK sent to me. Cute. And have I ever mentioned that "music" is not a verb? One of these days, Alice…