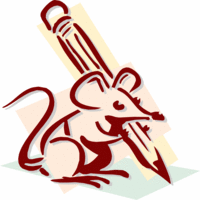 So the guidance counselor at my high school asked me to give a talk this afternoon to some students who are interested in pursuing a career in writing. Isn't that nice? (I think she just couldn't find anyone else.)
I plan to ask them questions, and talk briefly about getting a book published. Then I'm going to chat about my good fiend Ross, touch on the whole self-publishing thing, and do some Q & A. I saw the list of students coming to my session and it looks like it's going to be fun. Nice kids all, and nary a scaredy cat in the bunch.
Of course, this also means I have to give up my 5th grade choir rehearsal today. *sniffy sniff*
What's up for your Thurnsday, besides pining for tomorrow at 5 p.m.?? Tonight is dinner-and-movie night with Bob and BFF Kay. Pizza and Chamber of Secrets. Yummy x 2.