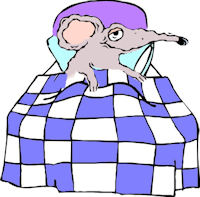 Hello, are we sleeping? No. We're flipping out at rehearsal and saying things that we are unable to remember several minutes later. I apparently accused my dancers of looking like they're on crack, and my singers of defecating all over a melody.
*sigh*
I'm not myself these days. Good thing my students have a great collective sense of humor. They must certainly go backstage and laugh at me. At least they're respectful and quiet during the tirades themselves.
Some cast member whispered a frustrated F-word last night. How do I know this? Because he/she whispered it into a live mic. Oops.
The good part is that the post-rant rehearsal looked much better. Tonight, the orchestra arrives – yay! The insanity will be stratospheric.
I love theater.
Fink on a stretcher