And here we are, at hope-ening night. I hope all goes well. It should. I think it will. I'm more worried about my end of things, actually (tempos, cuts in the music, timing, etc.). There are those who might think, "Eh, it's just a high school show." True. Very true. It's that — and a whooooole lot more.
As promised, I have some collected SitR trivia for your listening and dancing pleasure. There are also some photos from our final dress last night. Enjoy! I'll see you on the other side of opening.
Singin' in the Rain –
Did You Know…?
In 2007, the American Film Institute ranked SitR the #1 movie musical of all time, and #5 on their list of the top 100 American films ever made.
In the iconic scene where Gene Kelly dances in the rain, audiences didn't know at the time that he was very ill, suffering from a high fever and the flu.
Donald O'Connor had to take a couple of days off filming after shooting the Make 'Em Laugh scene — it took that much out of him. Then he found out that the footage had been destroyed by fire. Ever the professional, he came in and filmed the entire number again.
Jean Hagen, who played the shrewy, nasal-voiced actress Lina Lamont, actually dubbed Debbie Reynolds's singing voice in the movie. [In the story, Reynolds's character sings for Hagen's.] Weird.
Debbie Reynolds was only 19 when she played the role of Kathy Selden. Kelly was so mean to her with regard to her somewhat limited dancing skills, he often reduced her to tears (and said later that he was surprised she ever spoke to him again after how he'd treated her). She sought dance help from none other than Fred Astaire.
The Moses Supposes tap routine (the actual tap sounds) was dubbed in later — by a couple of women. Heh.
The title song was actually composed for a show called Hollywood Revue of 1929 — 23 years before the film's release. In fact, only two songs were written specifically for the movie (Make 'Em Laugh and Moses Supposes).
Speaking of Make 'Em Laugh…the song is a blatant ripoff of Cole Porter's Be a Clown. Director Stanley Donen warned against using it in the film, calling it "100 percent plagiarism," but songwriters Arthur Freed and Nacio Herb Brown put it in anyway. Fortunately for them at the time, Porter chose not to sue. Fortunately for MGM (which filed for bankruptcy yesterday), Porter's descendants haven't sued, either.
There are a ton more, but alas, time's a-wastin'. Here are some pretty pictures.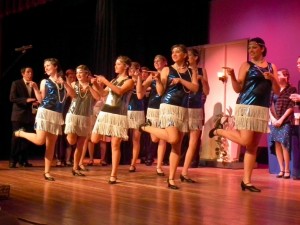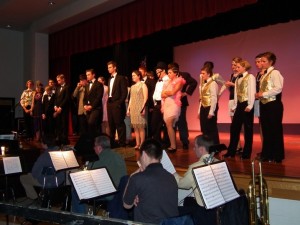 ~
Well have a good day, my loyal fiends. I'm off to break legs. Tonight, I mean. Figuratively speaking.
Photos – Norwalk Reflector