I ponder something this day. I wonder how many people:
Don't care to comment on a blog post, even if they have strong opinions or would normally contribute a comment if it weren't in writing
Are afraid/intimidated to comment on a blog post, mostly because of the "retribution" factor
Just enjoy being anonymous and having a (hopefully) good read, and not feeling responsible for advancing the discourse
Think I'm just cute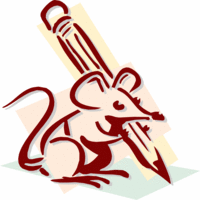 My blog stats regularly show between 70 and 150 unique visitors a day (I know — not much on a worldwide scale, but you could say quantity isn't everything), and very few of them come from search engines, with the exception of about a dozen or so who arrive at the site looking for images (which is why I give most of my images non-descriptive names). In other words, most of my hits arrive with "no referring link" — that is, they access the site from a bookmark or by typing finkweb.org into the location bar.
But only a handful of those readers actually comment. And, for those who are blog-savvy, commenting is what keeps a blog moving forward; alive. And I must admit, it's my absolute favorite part of this little endeavor — even more than my writing. I am a textbook extrovert, which means I draw my energy from others. I live for the repartee, don't you know.
So, all together now, let's play us a game. [Regular RtB commenters, please get the ball rolling here, k?] I'd like to see how many lurkers we can draw out of the shadows. If nothing else, it'll give me a better idea of who comes knocking in Finkville.
Your mission, should you choose to accept it, is to share the following, to the extent with which you are comfortable:
Your state (geographical, as opposed to, like, dazed — and if not US, your country)
What you do for a living (laborer, homemaker, student, retired, yadda)
An interesting fact about you (a hobby, an accomplishment, a research interest, you once sang in a boy band, etc.)
I will respond to everyone's contribution, and I hope others will respond to them as well. The result: some fun banter, some new information about Finkites, and probably some funny exchanges here and there.
Because I've been around the internet block a couple-a times, I know there are people who might be untruthful or silly, but that's just taking the wheat with the chaff, and I'm fine with that. It'll still reveal some interesting stuff.
So….ready, steady, go! I'll start.
Ohio
High school choral director/Musician
In 1973, I won my 8th grade spelling bee. Mrs. Lewis, my English teacher (Mickey Finn, do you remember her? She was my fave teacher EVER–largely responsible for my love of  reading and writing), gave me my very own copy of The Andromeda Strain as a prize. I felt like I'd won a gold medal at the Olympics.
Allons-y!
LeFink *poof*