…I'll tell you what I think about some TV shows.
Last week I caught the premiere of "Hot in Cleveland."
I'm not sure what I was expecting…maybe something along the lines of "Golden Girls," but with a modern twist. I think that's what I got, although after watching it, something wasn't quite right.
I suppose I'm not a huge fan of the one-liner sitcom. You know, the "Three-and-a-Half Men" style, where every other line is a rimshot drum kick. I mean, it was funny, don't get me wrong. But it just lacked — I dunno — sincerity. Does a TV sitcom require sincerity? No. A situation comedy requires situations that are comedic. And there were plenty of those in "HiC," if not just a bit contrived.
It's all OK, though. Above all, I think it's fantastic that middle-aged women are back in style on TV.
~~~~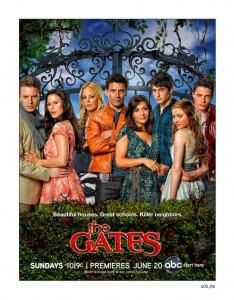 Last night, the Thriller and I watched the premiere of "The Gates." Now I might like this one, I think.
Think "Knots Landing" mixed with "Dark Shadows" mixed with "Desperate Housewives." In other words, nothing really mindbending — just some spiky, mindless fun. They did a good job of shadowing/foreboding on character issues to establish viewer curiosity. Already, several developing plotlines are evident. I think I'll tune in again next Sunday.
But for now, I must fly. I hope your weekend was relaxing. Mine was filled with dogs and family and fun. Off we go…
Photo credits: ABC-TV, TVLand