Hard to imagine. Little Harry Potter on Broadway, in his birthday suit.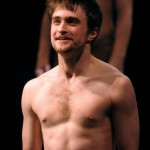 Daniel Radcliffe, in what critics are calling a fabulous breakout performance, is in New York for the winter, doing a run of Equus, the provocative play by Peter Shaffer, who also wrote the book for Amadeus.
From what I've read on the web this morning, the boy can really act. It's clear why he might have chosen this role; it is just about as far away from his Harry character as he can get.
Considered a bit dated now, but still powerful, is the storyline of Equus, which centers around a teenage boy who develops a strange idol-worship fetish for horses. A lot of it is rooted in the psycho-sexual issues of Alan Strang (played by Radcliffe), which delves deep into the boy's history with his mother.
Sent in to try and reach out to Alan is Dr. Dysart (played by Richard Griffiths, accomplished stage actor and Harry Potter costar). The result, from what I gather, is an amazing performance. It should put butts in the seats at the Broadhurst, if for no other reason than I'm betting there are lots of fans who would just pay to see the oddity of Radicliffe in the altogether (though I wouldn't be one of them, thanks all the same).
Anyone for a quick weekender to Manhattan??
FO
Photo credits: the LA Times