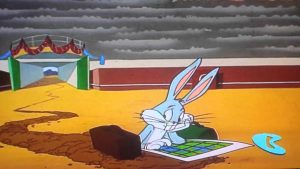 Yeah, we forgot to take it, and we ended up in Cleveland. The Thriller is back in the hospital for the time being. He was scheduled for two scans on Tuesday: a bone scan (they want to know why his left side has gone weak) and the standard CT to see how the cancer cells are doing.
Neither one happened. Each time they tried to lay him flat, he began to choke. I guess that comes with the territory: you can't cough, therefore you can't clear the emphysema junk out, therefore it lines your trachea and esophagus like a wet sleeping bag, therefore it's hard to breathe through a straw when all the weight of everything is pressing on your chest.  As we neared home, I had to call Lars and have him come over and carry him up the five stairs into the house. He's a good son.
It was then that I called the oncologist's office, and they wrote a prescription for a wheelchair. If he's not walking much anymore, I still want him to be able to enjoy going places with me. In fact, once I get him home, I fancy a nice walk in the park, since the weather's been so nice.
Sadly, it will have to wait a bit. Yesterday morning, he was struggling so hard to breathe, I took him to the ER at our local hospital. Five hours later, he was in an ambulance on I-71.
Suffice to say that it is not easy being the Thriller nowadays, which makes his "Come on, let's get this done!" attitude even more astonishing. I will deliver all assigned hugs you might want to give.
I'm putting in the morning at school, then leaving to drive up at noon. My colleagues (great friends) are covering for my afternoon so the district doesn't have to pay a sub teacher (again). Mavis has everything covered on the home front with Pax and Remy. Only downside is we will miss having dinner with the Js. Thursday night is our night.
So…what's on the menu for today, you ask? Well, the scans (full body bone and CT) are happening, except they're getting creative with sedation; they plan to drug him up almost to the point of "putting him out." Hoping it works, because they said they can't use general anesthesia for the tests. Still, I fail to understand how technology can enable doctors to look at cells on a mollecular level and decide where they're going and what to do about it, but somehow, doing a bone scan while the patient is in partial recline is a mind-blowing 33rd-century pipe dream. Makes me go like this. 
I guess I'd better get going. Seamus's dog Chevy is visiting, and while we love him and he's awesome, he's the nut who made off with my left moccasin. I'm not sure what to do about that…or where to look.
I'll keep you posted, fiends. Off to the shower, the school house, then up to Believeland.
Much love
#teamthriller